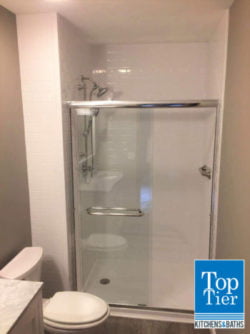 Do you have limited mobility? Do you want to help a loved one age in place at home safely?  If you are like me, you worry about growing older, and watching your loved ones grow older around you. Don't let aging detract from your quality of life. Increase the accessibility of your bathroom and stay independent in your own home by updating your bathroom and age in place with a walk-in shower.
Benefits of a Walk-In Shower
The bathroom is the main source of problems for aging gracefully in your own home.  A walk-in shower can alleviate many of those problems. There are many great benefits to a walk-in shower.
Ease of Use:  A fall, surgery, or medical diagnosis can make it hard to get around the tight corners of your bathroom. Our walk-in shower was a lifesaver after my husband's knee surgery because he didn't have to step over a high tub wall making getting in and out of the shower quick, easy, and safe. With no threshold to step over, a walk-in shower reduces the risk of slips and injury. A walk-in shower makes it easy for those with low mobility, or in wheelchairs and walkers, to bathe independently.

Added Value:  Walk-in showers offer a more modern, open feel that makes bathrooms feel larger and more contemporary. Modern walk-in showers increase the value of many homes over a traditional tub/shower combo. Also, they yield excellent value in the form of savings on medical costs you could accrue if you or a loved one sustained an injury while using a traditional bathtub.
Sense of Dignity:  Aging is a physical process, but it can take a considerable mental and emotional toll when it begins to detract from your day-to-day routine. By installing an easy-access walk-in shower, you're preserving your personal independence or that of a loved one.
Features of a Handicap-Accessible Walk-In Shower
To make your shower handicap-accessible, these showers are built with:
Barrier-Free, Walk-In Entry
Easy-to-Reach Faucet Controls
Handheld Shower Wand
ADA-Compliant Grab Bars
Slip-Resistant Flooring
Optional Built-in/Portable Shower Seating
Make Small Updates
Also, small updates in your bathroom can make a big difference. For instance, good lighting is important in any bathroom, but it's especially important in an accessible bathroom. Without proper lighting, it may be more difficult to navigate the space, increasing the potential for injury. Make sure you have adequate lighting in your bathroom, and that your controls operate easily.
Installing safety bars is also a cost-effective update that will help you add safety to your bathroom. Adding grab bars to the area around your toilet and shower provides additional stability and support for your existing features.
Luxury Walk-In Shower Upgrades
Incorporate in some luxury features in your walk-in shower and showering now becomes a joy! Take your shower update to the next level with a variety of customized accessories and fixtures, such as:
Custom-Styled Shower Walls
Beautiful Glass Shower Doors
Rain-Style Shower Heads
Multiple Shower Heads and Faucets
Built-in Shelving
Integrated Soap Caddies and Foot Pedestals
And More!
The Top Tier Difference
We at Top Tier Kitchens & Baths set a high standard for outstanding customer service, high-quality shower remodeling products, and impeccable installation. 
For all your shower replacement and remodel needs, you can trust us to complete the job with expertise and dedication to excellence. If you're looking for ways to increase the accessibility of your bathroom, the professionals at Top Tier Kitchens and Baths can help!  We'd love to help you create a safer, more accessible space. 
Submit a quote request on our website at toptierkitchens.com or give us a call at (417) 887-1100 to schedule a free, in-home consultation with one of our designers. We look forward to serving you!
Thanks for reading! Follow us on facebook to keep up with our blogs and for exclusive promotions.