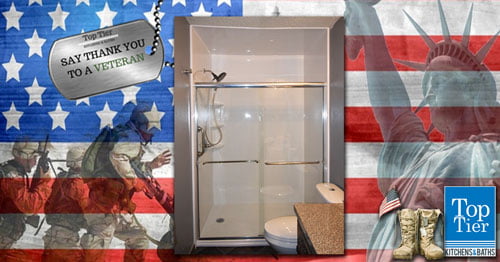 With the assistance of VA grants for disabled veterans, if approved, Top Tier Kitchens and Baths will help give you a free walk-in shower.
At Top Tier Kitchens & Baths, we value the sacrifice veterans have made for our country. To show our appreciation, we can assist disabled veterans with applying for a free walk-in shower from Veteran Affairs. We make it a simple process and help with all the paperwork. With an easy step walk-in shower, easy to reach controls, grab bars, and a bench seat attached to the wall, claiming this offer is a great way to update your bathroom for better accessibility.
We're VA Approved – Get up to $6800 Towards a Walk-In Shower for Disabled Veterans
If you are considered 50-100% disabled by the VA, you could qualify for up to $6800.00 to use towards the purchase and installation of a walk-in shower. If you are having problems bathing and would like more information we can help.
Under the Home Improvements Structural Alterations (HISA) program, Veterans with service-connected disabilities or Veterans with non-service-connected disabilities may receive assistance for any home improvement necessary for the continuation of treatment or for disability access to the home and essential lavatory and sanitary facilities.
In order to receive a HISA grant, the Veteran must first have a prescription
from a VA physician stating that a walk-in shower would benefit the veteran's medical needs.
Limits on HISA Grants for Disabled Veteran Walk-In Showers
The HISA program is available for both service-connected Veterans and non-service-connected Veterans.
Home improvement benefits up to $6,800 may be provided to a veteran that is over 50% disabled.
Up to $2,000 may be provided to all other Veterans that are considered less than 50% disabled.
How to Redeem Your Free Disabled Veteran Walk-In Shower
Veteran Affairs must approve your application in order to redeem this offer. We make it easy by helping with all of the paperwork and walking you through the process. Disabled veterans from any branch of service may apply for one of our walk-in showers. Just give us a call at (417) 887-1100 or contact us and we can help.
Answering All of Your Bathroom Needs
Top Tier Kitchens and Baths is more than just a bathroom remodeling company. We can also fit your bathroom with other accessible options like an ADA compliant, easy step shower in your home, and allow accessibility to bathroom sinks or counters, and ADA compliant stool and shower grab bars. Our goal is to make sure we are updating your bathroom according to your needs.
Don't hesitate to reach out to us with any questions on redeeming this special offer! If you're a veteran in our service area, a walk-in shower for your bathroom is just a phone call away.
The Top Tier Difference
We at Top Tier Kitchens & Baths set a high standard for outstanding customer service, high-quality shower and bathroom remodeling products, and impeccable installation.
For all your shower replacement and remodel needs, you can trust us to complete the job with expertise and dedication to excellence. If you're needing to increase the accessibility of your bathroom, the professionals at Top Tier Kitchens and Baths can help!  We'd love to help you create a safer, more accessible space.
Submit a quote request on our website at toptierkitchens.com or give us a call at (417) 887-1100 to schedule a free, in-home consultation with one of our designers. We look forward to serving you!
Thanks for reading! Follow us on facebook to keep up with our blogs and for exclusive promotions.